Geplaatst op 04-02-2017
Hits: 406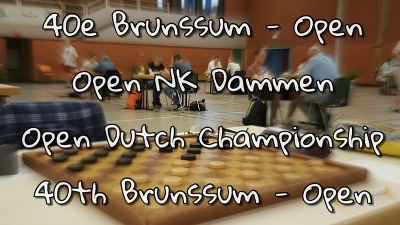 40th BRUNSSUM OPEN DRAUGHTS TOURNAMENT
at the same time OPEN DUTCH CHAMPONSHIP
AUGUST 4TH – AUGUST 12TH 2017
BRUNSSUM; THE NETHERLANDS
Combine a holiday in Limburg, the most touristic, most southern district of The Netherlands with close borders to Belgium and Germany wherever you are, with a nice draughts tournament.
The oldest Dutch summer tournament!
Traveling by plane? No problem at all, we have 7(!) airports within an hour driving: Eindhoven, Düsseldorf, Düsseldorf-Weeze, Köln-Bonn, Brussels-Charleroi, Brussels and Maastricht-Aachen.
Again all different kind of players in ages from 6 till 90, male and female, from the Netherlands until China, will participate in the tournament.
Play and relax! One round a day, on a nice starting time of 12:00.
Need help in traveling or getting accommodation? Send us an e-mail.
Wanna play?
Inscriptions via the menu on the left side of the website, or send an e-mail to info@brunssumdamtoernooi.nl